Flexible Technology Options for Efficiency and Effectiveness
Protecting your customer delivery experience is as important as protecting the products they receive – which is why Diakon is dedicated to the most customer- centric technology available. We offer solutions that are flexible, adaptable and scalable so you get exactly what you require for your business without wasting time or money on services that simply don't do what you need them to. Our ability to utilize a multitude of platforms is a distinctive advantage over our competitors that also offers you freedom from dependency.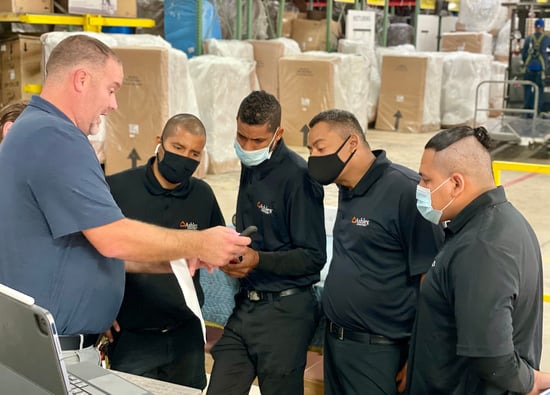 Contactless Delivery Solution
From dynamic routing and scheduling to 100% contactless delivery Diakon has the best applications to optimize your last mile delivery experience and keep your customers safe. Our Contactless Delivery Solution(CDS) helps team teams and customers safe by:
Pre-delivery text confirmations to screen customers with COVID-19 symptoms
Delivery address, customer and product verification via text message
Proof of delivery and customer signatures without exchanging devices or paper manifests
Real-Time GPS visibility with live progress updates and ETA
Instant customer surveys on over 90% of deliveries
Custom reports to track delivery team performance
Dynamic routing and optimization
Customer resolutions via text message
On-line customer access to delivery ETA

Our Proprietary Software Application Delivers Value
If it's important, it must be tracked. We have developed a proprietary software application, to measure, monitor, and manage delivery data from the time an order is received through processing contractor settlements.
Application benefits include:
Compliance enforecement
Background verification
Order entry
Manifest preparations
Automated invoicing
Contractor settlements
Claims management
Human resources and contractor on-boarding tools
Management and operational reports
Request a Quote
To find out more about any of our services or to request a service quote, contact us today!