The people, technology, processes, and activities necessary to move your products from their origin to your customers require a strong supply chain system. The logistics side of supply chain management is filled with many important details and complexities. Expectations of quality, quantity, time frame, and location must be met.
However, when you take a step back, you'll find that supply chain logistics at its core is the simple idea of getting products and services into the hands of customers quickly and correctly. When you boil it down, you can find two key ways to test the strength of your own supply chain logistics in meeting this basic (yet not-so-easy) need.
1. Key Performance Indicators (KPIs) for Supply Chain Logistics
KPIs are developed to identify, measure, and track the performance factors that mean the most to your unique logistics program. They enable you to pinpoint areas that are already performing efficiently, as well as those that need improvement. KPIs should be custom-developed for your company's individual goals and objectives, and may include such categories as:
Productivity
Refusals
Completion percentages
Not-at-Homes
Average stops
A KPI report may look much like this sample: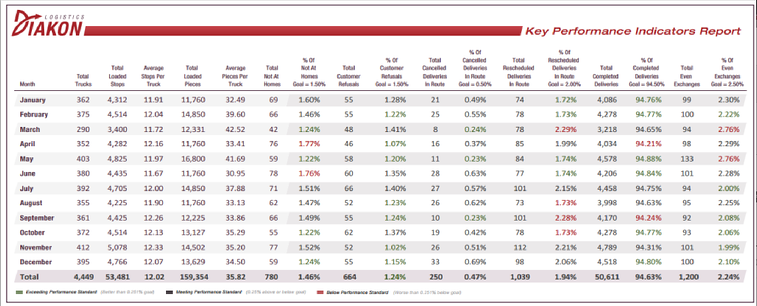 2. Independent Customer Surveys
Third-party customer surveys are an important and effective tool to assess your customers' overall satisfaction and the performance of your supply chain logistics efforts. Create your survey to delve into the feedback you care about most. What's important to you and your customers? Some general examples of topics covered by a supply chain management company include:
Delivery team's appearance/performance
Damage free delivery
Customer courtesy
Installation or assembly satisfaction
Overall satisfaction
These reports can be sent to you daily, weekly, or as often as needed and are a potentially invaluable tool to gauge your end-of sale logistics from the most important viewpoint, that of your customer.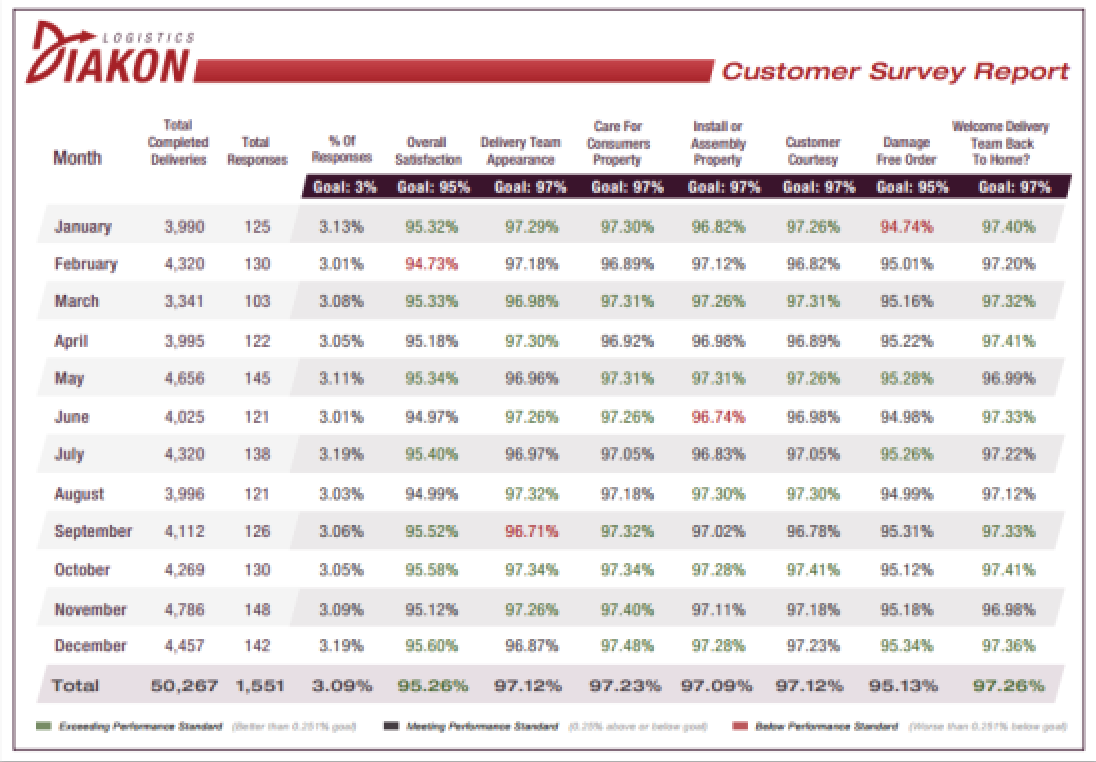 Information Makes the Distinction
The knowledge obtained from accurate and complete assessments of your company's performance on these two key logistics tests can mean the difference between you and the competition. A good logistics provider should facilitate these tests and be willing to be held accountable for the results.
3. Technology that scales with your business
The first two points won't make a difference if you can't manage and improve on them. Of course if you can't track it, you can't manage it. Make sure you have the right technology that works with your company so that you can track the most important indicators to your business. To learn more about technology implementations download our free white paper: